Meet the Team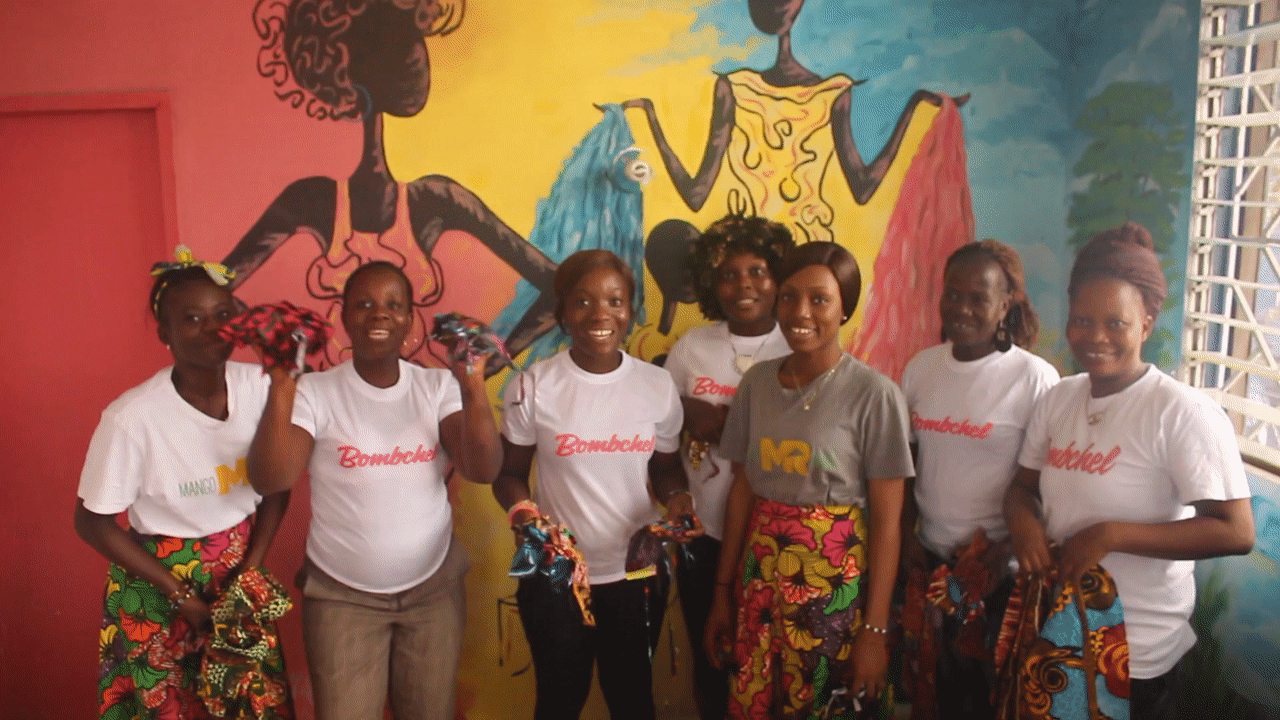 The Bombchel Factory is the ethical African fashion wonderland of your dreams. This company is like no other.
We make contemporary outfits using authentic, bold African prints that are purchased locally in West Africa. Our little sewing factory, located in the heart of Monrovia, Liberia, has a big mission: to teach an all-woman staff of Ebola survivors, rape victims and the deaf. Our commitment is to improve their lives by helping them to become self-sufficient through skill-training and education. Our ladies are earning salaries for the first time in their lives. We see the pride and confidence as they master their new trade, and we nurture their growth. We believe in a hand UP, not a handout. Our company is for-profit and we believe that investing in our people is the best way to a superior product.
Meet Archel
Archel Bernard is owner of The Bombchel Factory and Mango Rags boutique in Monrovia, Liberia. She moved to the West African country after graduating from Georgia Tech in Atlanta. She now specializes in dreaming up contemporary African clothing, training disadvantaged women to sew her designs, and helping the women to become self-sufficient.
Archel's mission in life took a significant turn amid the deadly Ebola outbreak in Liberia. She saw the devastation in the country she loved; a country still struggling to overcome civil war. Archel decided to open a factory to help the people of her ancestral homeland to rebuild. She named it The Bombchel Factory and herself, the Head Bombchel in Charge. Archel's favorite Liberian food is Jollof Rice from her grandmother. Find Archel on Instagram here.
Meet Beatrice
Beatrice is our very first Bombchel. Before working at The Bombchel Factory, Beatrice walked Monrovia selling fish from a bucket. Hailing from Bong County, Beatrice's favorite Liberian dish is palava sauce. At 27, Beatrice is an Ebola widow and mother to a 14-year old girl. Beatrice is excited to one day have her own business and is taking the first steps by learning to read and write. In her own words,"I want for people to love our materials and the things we produce. I also want for more people to come so we can have the largest factory in Liberia!"
Meet Blessing
Blessing is our youngest Bombchel at 22-years old. Before joining the Team at The Bombchel Factory, Blessing was a babysitter. Blessing enjoys eating fufu, lives in downtown Monrovia, and has ALWAYS wanted her own fashion business. In Blessing's own words, "the thing I'm happiest about is we learn cutting AND sewing. That way I can make the clothes by myself when I'm ready. I will stay here until I get more advanced."
Meet Sis Emma
Sis Emma is the mother of our group. Before coming to The Bombchel Factory Sis Emma sold used clothing in a Paynesville city market. Ebola was an extremely difficult time for her, as her husband got sick (with an unrelated illness) during the time of Ebola and was turned away from clinics that were afraid he was bringing the deadly virus to their patients. Now that she's with us she says,"When I finish making a skirt, my whole heart is in there to make sure it's neat. Anything I make, let it be neat. When It's neat it will be acceptable in the market. That's when I am happy." Sis Emma's favorite Liberian food is GB.
Meet Sis Louise
Louise is our easy-going big sister at The Bombchel Factory. Always eager to give a helping hand, Emma brought Louise to us after Louise saw how Emma's life changed by working in The Bombchel Factory. Louise was able to take her salary and pay for her oldest son's senior year tuition. In her own words, "When you come here and you ask for help, no one says 'oh I will not do that.' We are understanding with one another. When we come here, we do our work, and we tell God thank you that we have work to do." Louise's favorite Liberian food is GB.
Meet Ofedin
Ofedin is one of our newest hires, but she came in with a bright smile and eager attitude. Before coming to The Bombchel Factory, Ofedin didn't have a job. In her own words,"I didn't know anything, so I didn't DO anything." Now, Ofedin is preparing to enter the University of Liberia to study Accounting next year. Ofedin's favorite Liberian food is dry rice with fish.
Meet T Girl
T Girl has worked with our company the longest, and is therefore in charge of making sure everything runs smoothly at The Bombchel Factory and at Mango Rags. A new mom to our first Baby Bombchel, T Girl trains all the store staff and is being groomed to start a business selling hair and hair accessories. T Girl loves Liberian-style grilled fish.
Meet Patricia
Patricia is our new store hire and is very excited to learn about running a business. Our future caterer, Patricia just graduated from college and is working with us until she's ready to start her own business. Until then she makes sure our customers are well taken care of, and everything is neat at Mango Rags. Patricia's favorite Liberian food is anything she made herself =)
Meet Joyce
Joyce is the math-minded store associate at Mango Rags. Joyce came to us fresh out of high school and has been trained to make sure our inventory and money adds up everyday. You will always see her smiling face when you walk into our store. Joyce likes any Liberian food with palm oil.
Meet Aisha
Aisha is Archel's middle sister, model, and the lead host for BombchelTV. Aisha started by selling dresses with Archel at trunk shows and has moved to using her bold personality to help our clients figure out how to style our garments through our online media. Aisha started off trying to learn to sew with our women in the factory, but she makes a much better personality. Aisha's favorite Liberian food is palava sauce. You can find her on Instagram here.
Meet Azara
Azara is Archel's youngest sister, model, and super helping hand when it comes to shipping and client services outside of Liberia. Azara has always helped Archel fulfill orders while she was away, and she will be happy to finally get inventory out of her room to do so. Azara's favorite Liberian food is Liberian-style collard greens. You can find Azara on Instagram here.
Meet Alahna
Alahna is Archel's little sister, model, and videographer. She started by selling dresses with Archel at trunk shows and has moved to producing and editing all of the web content for the brand through her film company Soul Force Productions. Alahna's favorite Liberian food is palava sauce. You can find Alahna on Instagram here.
About Mango Rags
Mango Rags is our storefront boutique located in the YES Transport Compound in Monrovia, Liberia. Mango Rags started as a partnership between two Liberian women in 2013, and now serves as the retail outlet for clothes made by bombchels, for bombchels. You can also get a sneak peek into future Bombchel collections because every style is tested at Mango Rags before wide release. Come shop with us 10am-6pm Wednesday-Saturday.
Size Chart
Please keep in mind ankara has NO STRETCH. We use a lot of elastic and wrap styles to make up for this. Some garments may require slight alteration upon receipt. We will alter custom items that don't fit, but customer will have to pay shipping to and from destination. Inquire about custom attire if you prefer. SERIOUS INQUIRIES to be sent to shopbombchel@gmail.com.